I enjoyed today's webinar from Vovici, What it Means to be Customer-Centric in 2012. Very relevant expertise from top customer experience experts Nancy Porte, VP of Customer Experience at Vovici and guest speaker Andrew McInnes, Analyst from Forrester Research, Inc.
In case you missed it, here are my 16 tweets (and a couple RT's) that will give you an idea of what was covered (with my typos corrected).
Customer Experience Definition: How customers perceive their interactions with a company.
The customers experience should be useful, easy and fun! Be emotionally engaging.
Positive customer experience –> Loyalty –> Big Money
Customers are more empowered now than ever before! Should be a strategic priority for businesses.
Are companies keeping up with customers' expectations? The bar keeps rising as relationships become more complex.
Being customer-centric is NOT copying others, it's about consistently delivering on brand promises that resonate with your customers….
A customer's experience is flavored by more than your initial sale. Think about shipping, support, etc. It's everyone's business.
How do you use feedback via social media? Is it measurable and validated, or just a squeaky wheel? Good to think about.
Becoming customer-centric seems overwhelming. Where start? Map your customer's journey!
Customer Journey Map: doc experience across channels/depts, ID improvements, share common vision and begin to shape future.
RT @stephaniethum: Customer journey maps need to include an understanding of the customer's goals + pet peeves.
Common vision requires a shared understanding of your customer's journey map. Employees create empathy.
RT @stephaniethum: RT @vovici: @nportesays: customer journey maps should be living documents.
Involve employees in Journey Map Assumptions, plot touchpoints, ID what's important at each touchpoint, what data do you need?
Create a journey map for each target persona – not all customers are the same!
How get executive sponsorship for a customer experience program? Show financial impact, share roadmap, involve mgmt.
Ok, so what does a Customer Journey Map look like? Here's an example using an airline case study: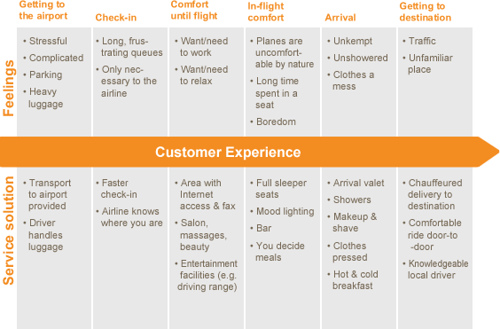 Thanks @vovici for a great presentation! If you haven't attended one of their webinars, I highly recommend giving it a try!